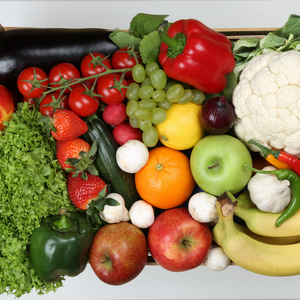 Assortment of Mixed Seasonal Fruits and Vegetables in a box. 
Instead of clicking each item individually, leave it up to us to select from a variety of different fruits and vegetables for you at an $80.00 value. 
Products will vary. Below is an idea of what is in the box: 
Zucchini, Yellow Squash, White Mushroom, Apples, Oranges, Pineapple, Lettuce, Spinach, Strawberries, Blueberries, Potatoes, Asparagus, Peppers, Cauliflower, Garlic, Broccoli, Carrots, Grape tomatoes, Cucumbers.
*All items are subject to change.